What does the Russian invasion of Ukraine mean for energy and climate change?
Jul 08, 2022
July's Q&A Insights session was with Dr Ajay Gambhir, a Senior Research Fellow at the Imperial College London Grantham Institute for Climate Change and the Environment. His research focuses on developing low-carbon pathways using computer systems models, which outline the technologies, measures and economic implications of transitioning to a net-zero world. He also studies innovation in low-carbon technologies, issues surrounding just and equitable low-carbon transitions, and the co-benefits of climate action.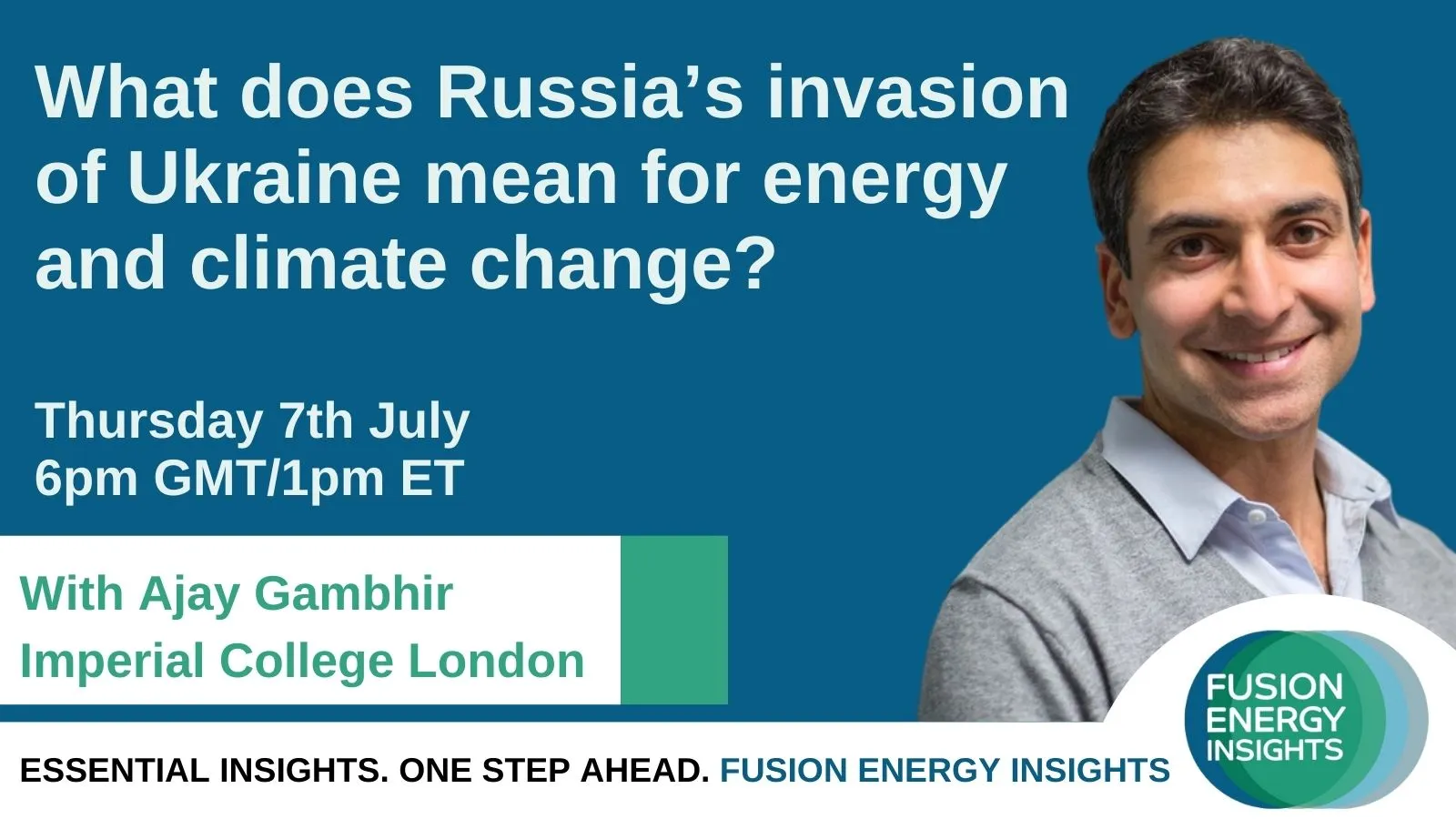 1. We may see a return to coal as European countries replace natural gas with LNG
There have been responses to the Russian invasion of Ukraine that on the surface would seem to be positive for the energy transition and climate change, such as the REPowerEU plan which aims to end the EU's dependence on Russian fossil fuels and tackle the climate crisis through energy savings, diversification of energy supplies, and accelerated roll-out of renewable energy.
However, in Europe we're already seeing a scramble for LNG to replace Russian gas, and that's actually taking some gas from South Asian countries and others who are now returning to coal in a bigger way than expected.
Ajay Gambhir: "Actually in China, sadly, we're expecting quite a big rebound of coal, and in India an even stronger rebound in percentage terms. So coal is not dead by any means. We have to be mindful of the fact that there could be a return to fossil fuels, and a very dangerous lock into them in the coming years."
2. We're seeing more focus on energy security and fusion is making an appearance
Just in the last week there has been news such as France's President Macron nationalising EDF and the UK Energy Security Bill.
"A number of other countries in Europe are announcing potential subsidies or aid for utilities. This is a big energy security moment. And they want control over companies which would otherwise have the freedom to sell their energy on international markets, which wouldn't necessarily be in line with energy security objectives."
The UK Energy Security bill says supportive things about nuclear in general, but Ajay says that one very interesting thing about the Energy Security Bill is that it actually explicitly mentions fusion, and the regulatory regime for fusion, which is quite telling.
"[The UK government] certainly doesn't see fusion as a next-generation or second half of century technology. I think it's starting to consider it as something that might be significant in several years to a couple of decades, rather than several decades."
3. There's a lot of uncertainty and the path to net zero won't be smooth
There could be an ESG (environmental, social and governance) backlash in the face of a global energy crisis. There are other priorities now besides sustainability, such as cost and security.
Recessions will affect investment. At a roundtable hosted by Moody's Analytics couple of weeks ago, the majority thought that the UK was in for a soft recession, in the near term at least, and perhaps darker clouds on the longer horizon. So what does an economic crunch mean for energy investment?
The Ukraine-Russia situation brings accelerated focus on low carbon, which is a good thing, and the optimists certainly say that this should supercharge decarbonisation efforts. But we're already talked seeing worrying impacts on coal and gas.
Ajay says: "We need to be very mindful of the sort of topsy turvy path to net zero that's likely to play out in the real world, not the smooth model pathways that computer systems' models produce."
A full pdf summary of key insights, plus the Q&A event replay, is available to Game Changer members of Fusion Energy Insights. Join us now for full access to all the insights.
Fusion energy is coming. The fusion industry is growing. Can you afford not to be informed?
Get all the insights and access to the FEI community by becoming a member of Fusion Energy Insights today.