US government initiatives for fusion energy development
Apr 26, 2023
For our Insights Q&A in April we invited Ahmed Diallo and Sam Wurzel from ARPA-E to share their perspectives on US government initiatives for fusion energy development.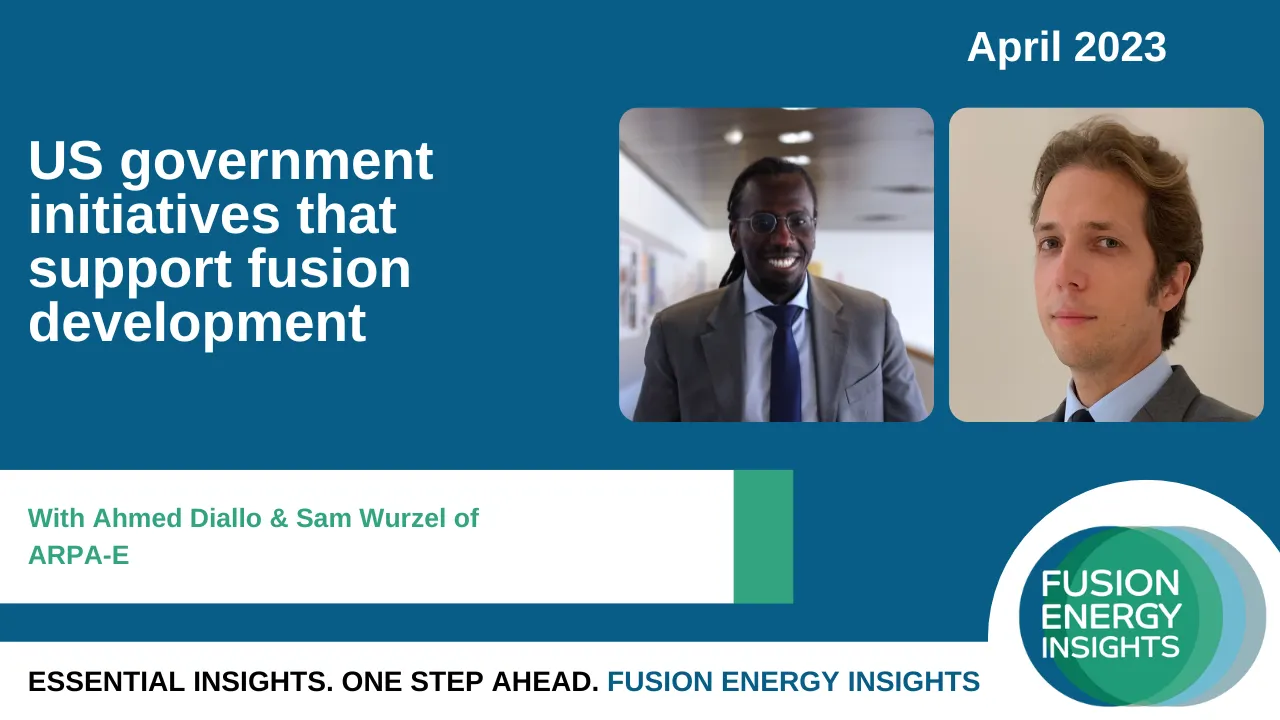 Ahmed Diallo is a Program Director for fusion at the US Advanced Research Projects Agency-Energy (ARPA-E), where he advances commercial fusion energy by identifying new R&D opportunity for accelerating fusion energy and by guiding and overseeing transformative research projects. He also served as the Deputy Director for the public-private partnership INFUSE (Innovation Network for Fusion Energy), where he planned, directed, and evaluated research activities in partnership with national labs, universities, and private industries.
Sam Wurzel has an entrepreneurial and investor background and currently serves as a Technology-to-Market Advisor at ARPA-E, where he focuses on ARPA-E's fusion energy portfolio.
As usual, here are three insights from the event.


1. Public-private partnerships will be critical to fusion's success
Sam Wurzel says: "Fusion is an enormous challenge along the axes of physics challenges, engineering challenges, economic challenges, social acceptance challenges…. And if we're not leveraging all of the skills of all of the institutions within a country, it's just going to be even tougher than it needs to be.
"Public private partnerships are a way of having national labs, universities and philanthropy getting behind the private companies. This allows the private companies to focus on doing what they do well, which is to move quickly.
"Private companies can move more quickly than any of those other institutions. However, they will not have the facilities of a national lab upfront; they will not have a deep decade's long experience with very specific skills, for example, tritium handling; they will not have a deep reservoir of graduate students and undergraduates and professors to solve the most challenging questions that require an academic environment to really tackle. So public private partnerships between the government and private companies can help to align all of these areas behind the private companies."
2. Different government initiatives work together to support fusion
Initiatives like INFUSE and ARPA-E work together to increase the impact.
INFUSE takes projects at a very early stage. They look at the fundamentals of a project and the ability of a private fusion company to achieve a certain milestone. There is always a component of engineeringor basic science that gets included.
ARPA-E targets high-risk high-reward projects. They look for the possibility of increasing some particular chosen metric by a factor of 2, 3 or even 10 or more. So the funding is much larger at ARPA-E than it is at INFUSE.
Ahmed Diallo says: "As a concept gets mature through INFUSE, for example, then they have the ammunition to tackle a bigger proposal to ARPA-E."
3. Novel ideas are needed for commercial fusion power plants
A reason why long-term support for fusion is necessary is that improvements will be needed to go from first-of-a-kind plants to nth-of-a-kind.
Ahmed Diallo says: "The private public partnerships are going strong and we should continue the effort because, like Sam said, there's decades of expertise in both universities and national labs. It'd be nice to continue increased funding and long term commitment in fusion to continue developing the workforce and then looking at novel ideas. Because after we discover the first fusion power plant that works, there will still be improvements that are needed."
Ahmed recommends not putting all our eggs in one basket and supporting alternative fusion concepts and research for particular power plant challenges.
---
A full pdf summary of insights, plus the Q&A event replay, is available to members of Fusion Energy Insights. Join us now for full access to all the insights.
Fusion energy is coming. The fusion industry is growing. Can you afford not to be informed?
Get all the insights and access to the FEI community by becoming a member of Fusion Energy Insights today.