Perspectives on investment for the energy transition and how to approach fusion
Dec 12, 2022
Amy Duffuor and Dr. Lauren Hartle joined us for December's Q&A Insights session.
Amy is a co-founder and General Partner at Azolla Ventures and Dr. Lauren Hartle is an Associate, also at Azolla Ventures. They discussed Azolla Ventures' structure and investment strategy, both of which are purpose-built to catalyse climate tech innovation. They touched on various climate technologies that are key drivers of the clean energy transition, including nuclear fusion.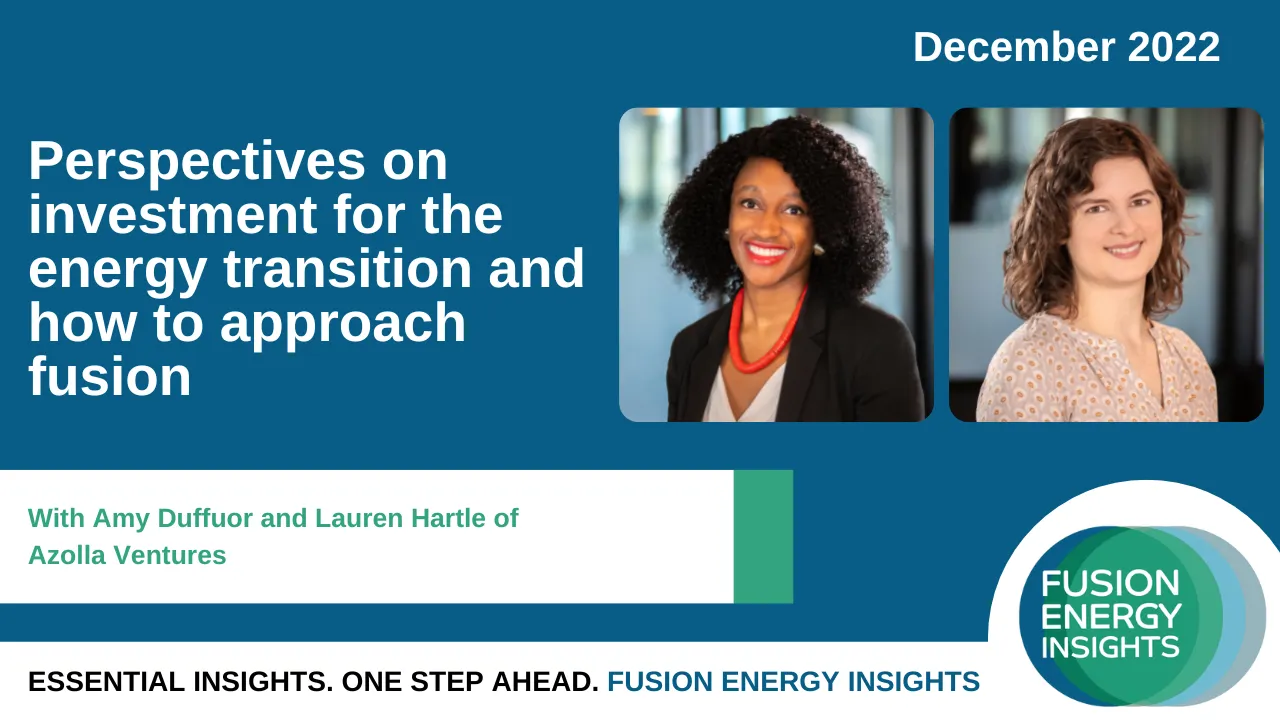 Here are three insights taken from this event:
1. Why invest in nuclear?
Firstly, nuclear power (fission) has already delivered significant climate impact, avoiding 55 gigatons of CO2 equivalent. So think about the potential moving forward if it grows.
Secondly, decarbonisation of electricity gets much more expensive if you don't have baseload generation, which nuclear could provide. Eliminating nuclear could cause up to 7x more expensive electricity.
Lauren Hartle says: "You can plan out different scenarios for electrification that don't involve nuclear. But if you don't have a compelling, relatively inexpensive baseload power that's low or zero carbon, suddenly decarbonisation gets significantly more expensive."
2. Balancing the long term solutions and the short term solutions in the energy transition will require clear and transparent targets.
Fusion could be a long-term, high-impact energy solution, but it's not ready yet. Assuming we will have wide fusion roll-out in the 2040s, we will need stop-gap infrastructure and technologies such as cleaner fossil fuels, that may have a longer lifespan than the gap they need to fill. Amy suggests that transitional activities should be clearly bounded, whether by dollar amounts or time limits or other ways, to prevent a scenario where there's a lot of unnecessary infrastructure that is either wasted or that people feel compelled to use, even if it is not the right thing for the clean energy transition longer term.
3. Collaboration will be one of the most important ingredients for the energy transition.
Amy Duffuor: "From an investor standpoint, there's often a lot of competition and elbowing to get your solution that's the winner. I don't think that makes sense, particularly when we're thinking about the energy transition in the broader climate space. We really need to collaborate because there's a ton to learn from each other. And, you know, we need all shots on goal to make this a reality."
***
A full pdf summary of key insights, plus the Q&A event replay, is available to Game Changer members of Fusion Energy Insights. Join us now for full access to all the insights.
Fusion energy is coming. The fusion industry is growing. Can you afford not to be informed?
Get all the insights and access to the FEI community by becoming a member of Fusion Energy Insights today.