Demonstrating new technologies and lessons from fission
May 15, 2022
Our May Insights Q&A event was with Dr Ashley Finan, the Director of the National Reactor Innovation Center and a Division Director at Idaho National Laboratory.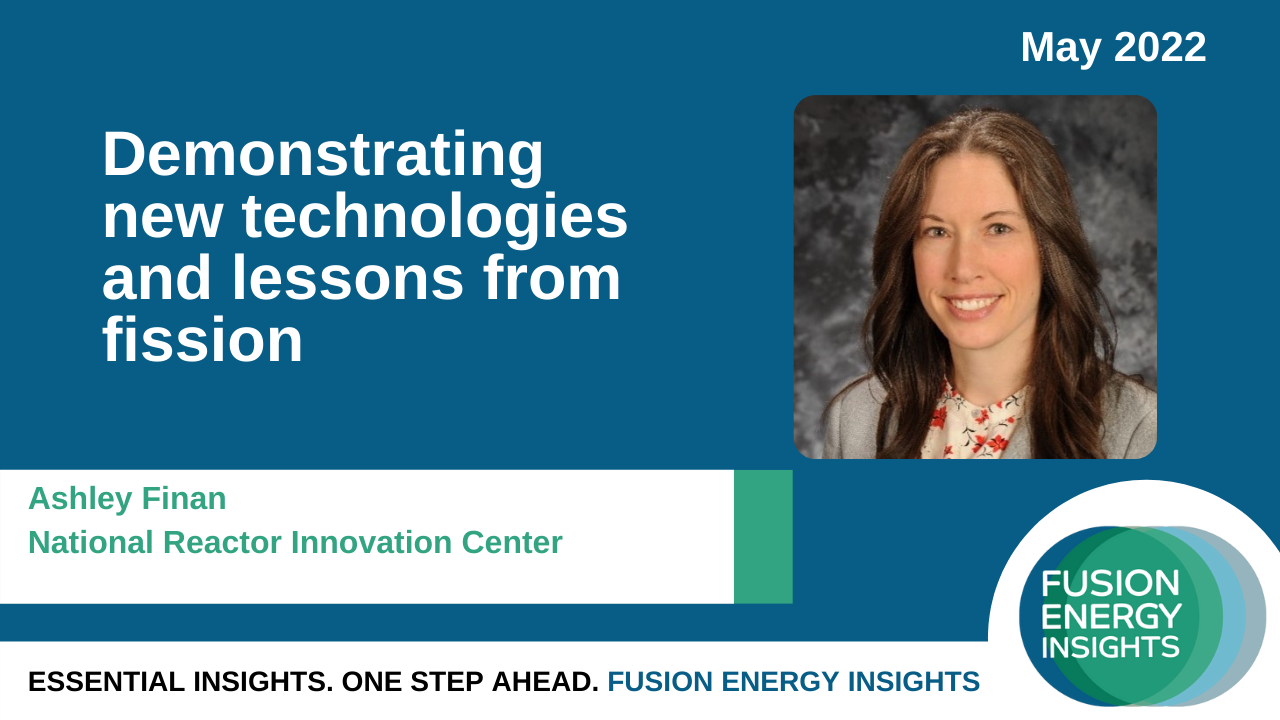 Here are three insights from the event:
1. Fusion could benefit from "innovation centres" that bridge the gap between research and the marketplace.
The National Reactor Innovation Center is a US national programme designed to bridge the gap between nuclear fission research, development, and the marketplace. It's a kind of public-private partnership that enables collaborators to harness the world‑class capabilities of the U.S. National Laboratory System, with the aim to demonstrate advanced fission reactors and to convert some of the nation's most promising designs into commercial applications by 2030.
NRIC supports national laboratories through regular meetings and reviews, standard resources for projects, centralised capabilities for common needs and engineering and management tools in order to provide accountability and communication between projects. It would be very useful to have something similar to NRIC focusing on fusion research in the US and worldwide.
2. There is room for both competition and collaboration.
The addressable market is more than any one company can take on. In both the fission and fusion industry, there are going to be competitors for market share all around the world, but there will be multiple winners in this addressable market. For both fields, it's important to establish credibility, push for successful commercial products, and address common problems. If there are multiple successes the entire energy industry will be greatly benefited.
3.
The energy transition will be made in partnership with society.
Looking towards the energy transition, Ashley reminds us that this is going to be a transition that is made in partnership with society, not in an academic lab. She suggests it's important to emphasise the whole field, not only the plasma physics or engineering aspects, and centre the focus around society. Ashley also recommends not choosing one favourite technology, and that a wide spread of approaches is really key. The energy transition should include all the tools that we have available. By eliminating a tool, sacrifices are made elsewhere, e.g in human health, land impacts or quality of life. It's important to have all these tools available in order to decarbonise the energy industry and bring clean energy to communities who need it most.
A full pdf summary of key insights, plus the Q&A event replay, is available to Game Changer members of Fusion Energy Insights. Join us now for full access to all the insights.
Fusion energy is coming. The fusion industry is growing. Can you afford not to be informed?
Get all the insights and access to the FEI community by becoming a member of Fusion Energy Insights today.