Commonwealth Fusion Systems and Eni Sign Strategic Framework Agreement
Mar 15, 2023
Last week, fusion company CFS and energy company Eni signed an agreement for closer collaboration on fusion including work projects such as joint research, development, and deployment opportunities in the advancement of fusion energy and related technologies.
So, what has happened and how significant is it?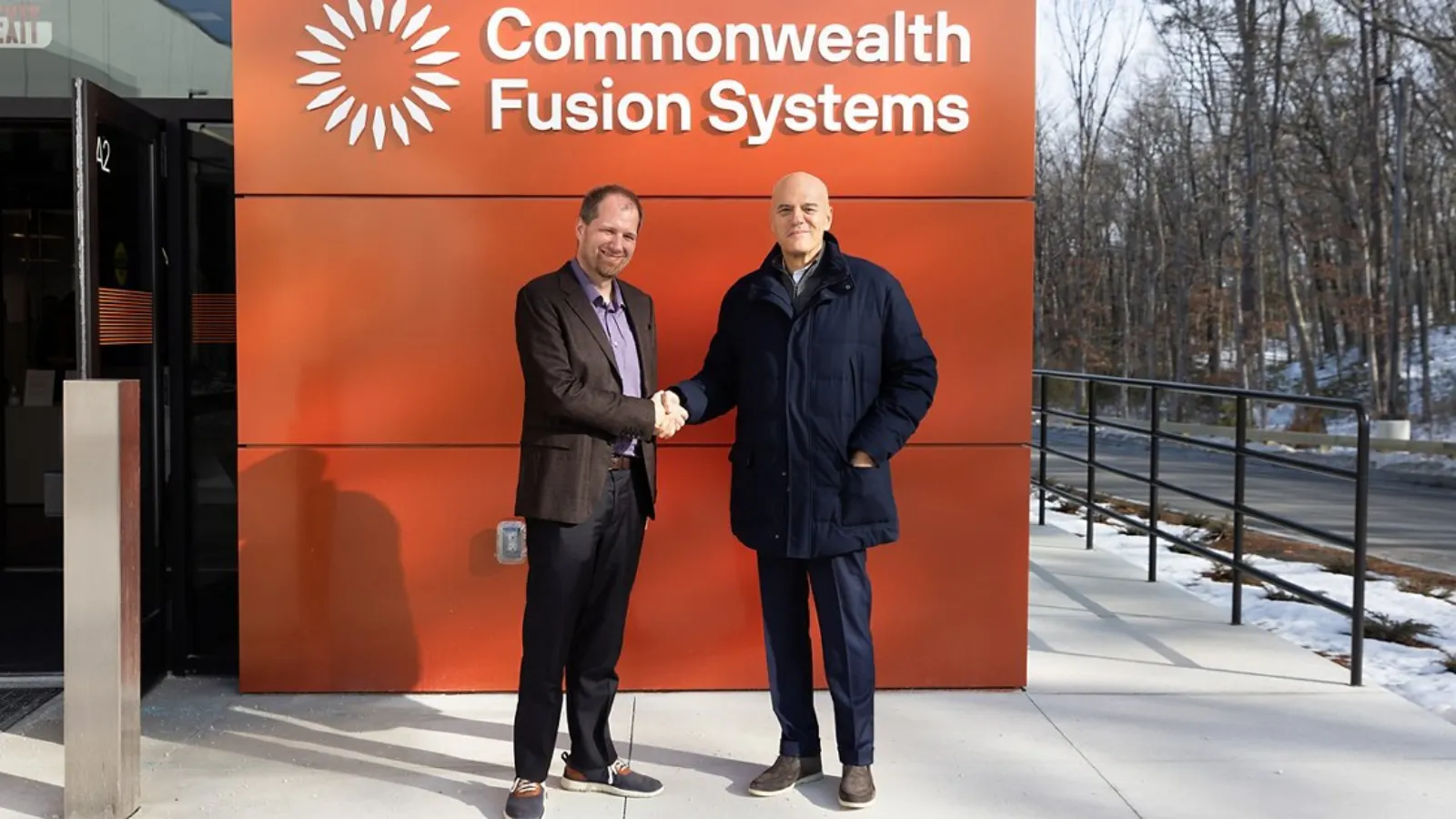 ENI and CFS sign cooperation agreement for the development of fusion energy. © CFS
What have they done?
Italian energy group Eni (ENI.MI) and US fusion company Commonwealth Fusion Systems (CFS) signed a new collaboration agreement on 9th March to accelerate the industrialisation of fusion energy.
They state that through this framework agreement, CFS plans to leverage Eni's support to further develop magnetic confinement fusion technology over the next decade.
Under the terms of the agreement, CFS and Eni will jointly explore key initiatives, that could include:
Strategy and support in scaling CFS' global ARC business, including power plant siting, market development, and the development of fusion workforce;
Project execution and operations collaboration for ARC and SPARC;
Supply chain development and management;
Technology collaboration in areas where the energy industry has unique capabilities, such as remote maintenance and robotics; and
Policy and international market development, including fusion energy regulations, and fusion education to help ensure a globally deployable technology.
Eni's CEO Claudio Descalzi said, "For several years, Eni has placed technology leadership, with a neutrality and diversification approach, at the heart of its decarbonisation path. Being aware of the great strategic value of this technology and the soundness of CFS, since 2018 Eni has invested in the business and was the first energy company to concretely engage in this sector. We now further strengthen this collaboration with our expertise and experience with the aim of accelerating the industrialisation path of fusion as much as possible."
Why is this result impressive?
Whilst a number of fusion companies have received investment from oil companies, CFS is the first fusion company to sign a development agreement with one.
Why is it important?
Private fusion companies are developing fusion power demonstrator devices (and some technologies for fusion power systems). But in order to commercialise the technology, partnerships such as this with established energy players will likely be necessary. Many of the fusion company business plans are to licence their technology to others who could embed it in their existing infrastructure. Fusion will need the skills and experience of established energy companies to really roll out fusion power plants on a meaningful timescale.
For oil companies, fusion is an opportunity to transition their business to a clean energy source that has the potential to be transformative for society--not to mention the potential for revenues (Bloomberg has forecast that the fusion market could achieve a $40 trillion valuation).
This partnership between CFS and Eni is a very positive step for the timely delivery of fusion energy.
Bob Mumgaard, CFS chief executive, said: "This agreement underscores the key role existing energy companies play in accelerating fusion energy industrialisation and the power of pairing of complementary organisations."
Tim Bestwick, CTO and Director of Strategy, Communications and Business Development at UKAEA commented: "I think this really is significant and perhaps something we will see more of. Energy companies like Eni have the capabilities and resources to make a material difference to progress towards fusion energy. It will be very interesting to see how others in the energy sector engage with fusion."
What's next?
The SPARC tokamak is currently under construction, with completion and operational testing envisaged for 2025. SPARC aims to exceed energy breakeven and be the first commercially viable net fusion machine.
On February 10th CFS officially opened its new campus in Devens, Massachusetts. The nearly 50-acre campus is home to CFS' corporate headquarters, advanced manufacturing facility and the SPARC facility, and allows space for ongoing company growth (including additional facilities for advanced R&D and future manufacturing capabilities for power plants).
SPARC will pave the way for the first fusion power plant, ARC, that is expected to start feeding energy into the grid in the early 2030s.
---
Fusion energy is coming. The fusion industry is growing. Can you afford not to be informed?
Get all the insights and access to the FEI community by becoming a member of Fusion Energy Insights today.